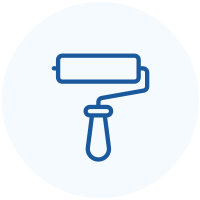 GTA Residential Painting Services
Complete residential painting and decorating services with De Luca Painting & Decorating Ltd.
Residential Painting
De Luca Painters & Decorators Ltd. specializes in both residential painting, commercial painting, decorating, and restoration, both inside and outside of your building.
Color Coordination Services
We are pleased to offer our clients colour coordination services to help maximize the overall impact of their redecorated properties. This is particularly useful when planning graphics and other bold applications on large wall areas
Our Guarantee of Satisfaction
De Luca Painters & Decorators Ltd. hereby warrants that work performed by us under contact will meet the standards of workmanship and materials specified in our Agreement.
We further undertake to meet agreed specifications as to price and time in completing our Agreement, except for additions and changes requested, and for Acts of God and other major happenings beyond our direct control.
Our Many Services Include:
Interior & Exterior Painting
Commercial & Office Painting
Air-Less spray applications
Free Estimates
Wallpaper
Metal Flashing Finishes
Warehouse/Factory Painting
Sandblasting
Interior Staining (Door, Trim)
Graffiti Removal
Epoxy & Concrete Floor Painting
Stucco Ceilings
Stripping & Restoration
Acoustic Ceilings
Concrete Block Ceiling
Steel Door Finishes
Office Redecorating
Steeple Restoration
New Construction Decorating
Exterior Staining (Decks, Fences)
Line Painting/Line Marking
Pressure Washing
Electrostatic Painting
Different VOC Paint Finishes:
Eggshell – best suited for washrooms and kitchens
Low-Sheen (Pead/Mat) – slightly shiny; best suited for hallways and high traffic areas because of the ease of maintenance
Flat – no shine; elegant, best suited for bedrooms, living rooms, dining rooms and ceilings. Now also available as a "washable flat finish"
Satin – recommended for wooden surfaces (doors, trim, windows)
Semi-Gloss
Gloss – very shiny